Thursday, December 17, 2009
Pictures, we've got pictures!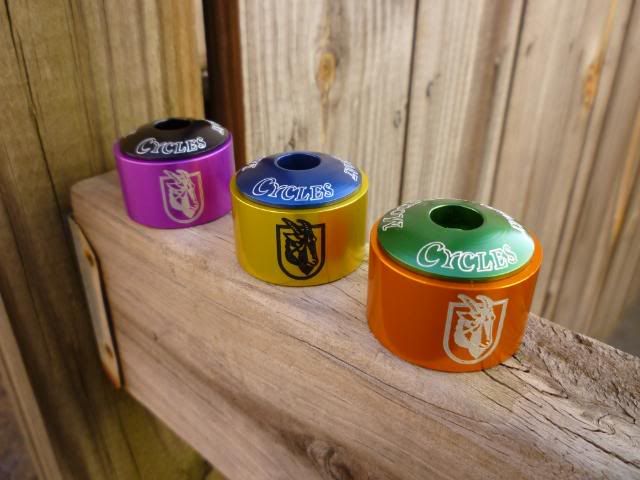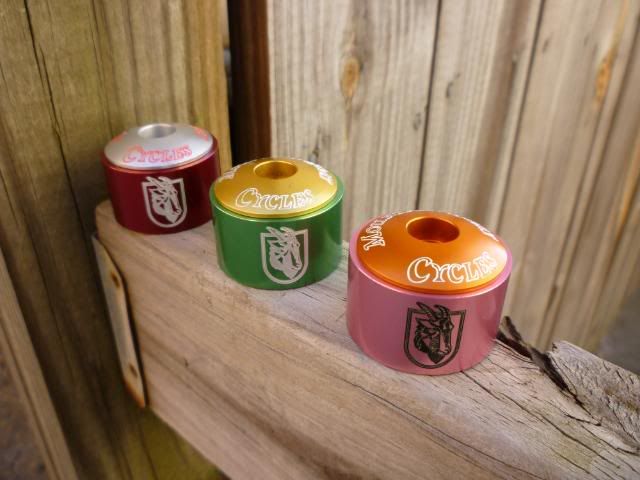 Plugs $29.99 pair
Spacers $12.99 (20mm)
Caps $12.99
Posted by

Mountain Goat Cycles
at 8:27 AM
No comments:

Monday, December 14, 2009
Just a few quick updates on Mountain Goat products:
-Jerseys are in and they look great! Long sleeve and short sleeve, pictures soon.
-Purely Custom sent us a new batch of cool anodized goodies. Restocked all colors of the head set spacers and top caps plus we added some really cool bar end plugs!
-Goat Horn bullmoose style bars are now officially on order. Sample #3 looked great so we are ready to get them made.
-I have actually seen pictures of the front ends of the Escape Route imported 29" wheel frames. This has been a long project but hopefully coming to fruition in the near future.
Posted by

Mountain Goat Cycles
at 1:56 PM
No comments:

Tuesday, December 1, 2009
Here is one from the archives. When we picked this one up, the original owner had done some sanding on the original silver finish (which didn't look like it was in that bad of shape) so it needed redone. We took it to our local powder coating place and had them match the original finish. Most of the parts were in decent shape so we just cleaned them up. We did replace a couple of parts with the same part just in better condition. Overall, I think it came out nice.
Posted by

Mountain Goat Cycles
at 1:32 PM
No comments:

Just a couple of quick updates on Goat projects:
-Sample Escape Route frames are in the works. Can't wait to see 'em!
-Goat Fink disc gold discs have been delayed due to a shortage of colored discs. They are supposed to be n stock around the first of next year.
-We have approved sample #3 of the Goat Horn bars so they should be in production soon.
-New shipment of Purely Custom head set caps and spacers have been ordered and should arrive soon. All colors will be back in stock again.

Couple of neat vintage Goat projects under way as well. Pictures soon.
Posted by

Mountain Goat Cycles
at 6:51 AM
No comments: